The biggest difference between a killer musician and a hack is the ability to groove . Knowing all the scales and riffs in the world does you no good if you don't know how to put them "in the pocket."
The key to developing a good sense of time is to play often with some kind of rhythmic accountability. This can be achieved in 3 ways:
1️ Best of all, play with other musicians who have a great sense of time
2️ If you can't do that, play with great records or jam tracks
3️ Play with a metronome
If you're going through my Beginner to Boss course, you're getting to play along with a musician who has a great sense of time (and a really humble one too!

) That's why I designed the course with a jam-along-with-me style.
But shameless plugs aside, my purpose here is to share a ninja level understanding of how to work with a metronome and how you can develop an awesome sense of timing. There's a step-by-step break down in this email below or you can jump on my video walk-thru on YouTube.
The basic philosophy is this: start with giving the most accountability to the metronome, and work towards giving the most accountability to yourself.
If you have a digital metronome or metronome app that has the ability to play various subdivisions, you can start by having the metronome play 16th notes (or on an old-style metronome, set the tempo 4X the BPM of the song.)

*TIP: Here's a free metronome app you can do that with. Then select 16th notes like this: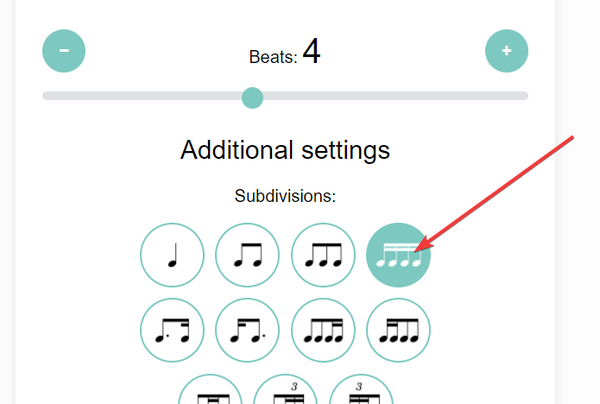 Why? Because it gives maximum accountability to the metronome so you can make sure all of your notes line up exactly with the 16th note grid.
For example, if I played Low Rider along with the 16th note pulse, you can see how every note lines up:


TIP: If your tempo feels too fast, try reducing it to 70% speed . Once you can nail that bump the speed increases by 10%. Rinse and repeat until you're up to full speed. This is a foolproof way to ensure results.
This is invaluable in making sure you're really putting the notes in the right places rhythmically. This is the best place to start, and the slower you can do this the better, as more space between each note demands greater accuracy to put the notes precisely on the right beats.
Once you can do that with ease, reduce the subdivision from 16th notes to 8 notes (or on an old school metronome, cut your 16th note BPM in half.) Now the metronome is giving you accountability for the 8th note pulse, but you are taking responsibility for feeling the 16th notes.

Next, reduce the subdivision from 8th notes to ¼ notes (or on an old school metronome, divide your BPM in half again.)

At this point, you have really internalized the groove of the phrase, and the metronome is clicking the tempo of the song. But there is one more level to go for true ninja status. Cut the tempo in half again, so you are only hearing a click on every other note. You could start with the metronome clicking on beats 1 & 3, but the final goal is to hear it instead clicking on beats 2 & 4. Most popular music has what we call a "backbeat" which means an emphasis on 2 & 4 - usually played by the snare drum and/or a hi-hat. If you can play a piece of music with the metronome clicking on 2 & 4, you've truly mastered the phrase, and you're groovin' .


HINT: before you start playing start counting, "2,4" along with the clicks, and then try to stick "1" and "3" in between. This is harder than you might think!
If all of this is confusing the heck out of you, check out this short video of me demoing the method
Groove hard my brothers and sisters!

Aloha,
Luke