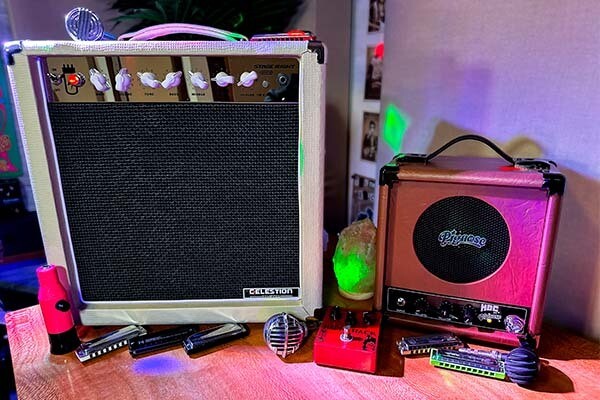 I've already written about some cool ways to get into that badass distorted sounding harp playing, with Low Cost Battery-Powered Amps. These are great for practicing at home and getting into the exciting world of amplified harmonica.
Now let's talk about solutions that YOU COULD ACTUALLY USE for an OPEN MIC, a JAM SESSION, or to SIT IN WITH A BAND, and that won't send you to bankruptcy court.

We will look broadly within 2 solutions:
#1 Going Direct (Assuming there is a PA System Available)

On a shoestring budget you could get this $19 mic into this $40 pedal and route that straight into a club's PA system and you've got yourself some badass tone for $60.

If you like this solution cos you don't have to schlep an amp to the gig, but you want the true tube distortion sound synonymous with the Chicago blues, try a harmonica mic (like a $200 Jason Ricci signature mic) into a Lone Wolf Harp Attack $199 pedal.
This is the pedal that Charlie Musselwhite uses when he doesn't have an amp, and it ACTUALLY has a mini tube inside it. It also sounds great through an amp, by the way. I LOVE THIS PEDAL!!!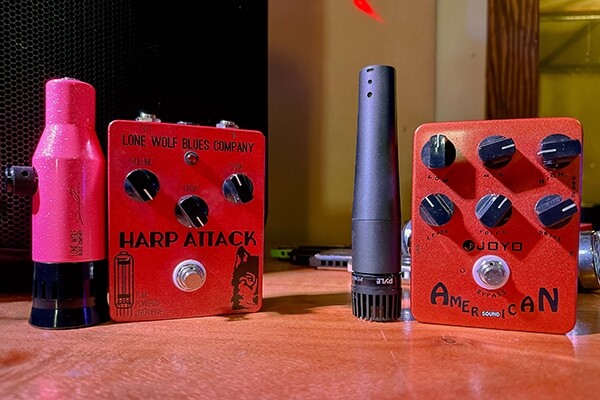 But who cares what I happen to like? Check out this short video shooting out the cheap stuff with the expensive stuff and decide for yourself which sounds you like best, and leave a comment on the video letting me know your two cents!
#2 Using an Amp
If you want to get into using a REAL amp (just like all the great Chicago bluesmen did) most amps will cost you anywhere from $700 to $7k. However, after many hours of scouring the deep dark corners of the world wide web, I've found 2 other options that are both under $250:

Pignose HOG 20

~ $245

What I Love

Sounds Great

Looks Great

Small and VERY lightweight

Minimal Controls

Internal rechargeable battery can be taken anywhere

What I Don't Love

Might not be loud enough to be heard over a band

No line out - would need to be mic'd in a club with a band

MonoPrice StageRight 15

~ $238

What I Love

Louder

15W / 1W switch - use 1W at home and 15W at the club

Looks Great

Does have a line out (to send to PA at a club)

What I Don't Love

Too many controls can be overwhelming

The Sound is a Bit Harsh - might be rectified by swapping out the tubes (see below)
Check out this short video shooting out these amps.

The HOG20 is "solid state" meaning it doesn't have any vacuum tubes in its signal path. The StageRight 15 DOES have tubes in it. Preamp TUBES are the revered sources of the legendary tones sought after by harmonica players and guitar players alike (though which tubes are most revered are different for the two groups).
The tubes that the StageRight 15 ships with are 12AX7 tubes, which are standard for guitar players. Switching those to 12AY7 (or 5751's) might turn it into a harp-player's dream. I think I'll have to give it a try. Stay tuned…