I got one a few weeks ago. Still plucking up the courage to try some tweaking.
Earlier this week I did open up a harmonica for the first time, but all I did was a bit of cleaning.
When I reassembled, blow 5 had stopped working! I tool the covers off again, poked the reed with the narrow ended tool, tried blowing, it worked, reassembled, it still worked. Phew!

I guess maybe a little something had jammed the reed? It was a great relief to get it working again.
I look forward to making more use of the tool.

@DavidW checkout this video it will show you how to gap your reeds. Yes it is a good tool. I thought it was excellent value for money. I might send for one in a week or two.
What a great video!
I made the mistake of trying to adjust my 4 draw a bit too much on my first harp by making the adjustment to close to the base or "foot" of the reed.
We live and we learn. I should have watched this video beforehand

. I'd probably still have the harp with a flat 4 draw rather than a completely blown 4 draw

Thanks for the video link @Dai
That's what I thought (& still think) too. I wanted to get some harmonica tools & since I already have a mix of brands (Hohner, Lee Oskar, Seydal & East Top) the idea that it includes 3 different reed wrenches made a good looking deal seem even better.

The harp I opened up the other day was the Special 20 I've been using for the B2B course & so most in need of a tidy up.
For my first dip in to reed gapping I might stick with the East Top 008K, it being the cheapest of the set. LOL!
Hi David @DavidW
That's exactly the way to start because it does take some time to learn how to do the adjustments without trashing your harp! Good luck with the tool and your harp work.



Regards,
– Slim

My Harmo tool kit arrived yesterday. Tip for anyone outside US have alook on your local Amazon. I got mine on Amazon UK.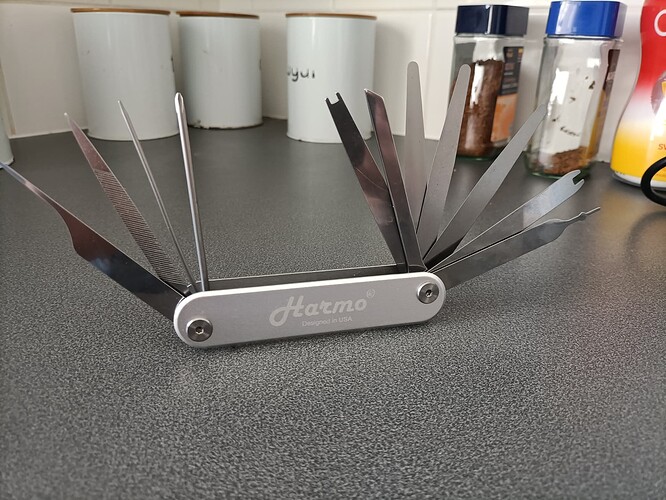 @Dai That was my source too.