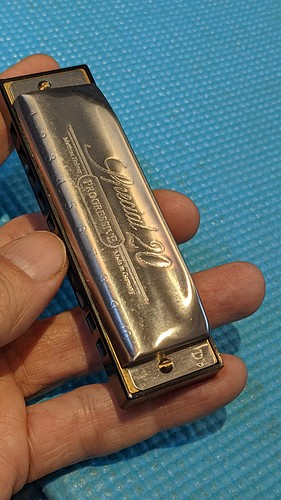 Since blowing out my 4 draw on my trusty Easttop "C" harmonica a month and a half ago, I have had to learn how to play the upper register to be able to reproduce many of the songs I have learned. While at first it was quite a challenge and I didn't particularly like the sound of the higher notes, with some perseverance and excellent advice from @Luke and others on this forum, I have gotten better at isolating single notes and negotiating the tricky 6/7 draws leading to the upper register. It seems to me that not having the D and Db notes on the middle part of the harmonica forced me to learn more than I would have otherwise.
I dropped a pretty heavy hint to my daughters that I would like to have a Hohner Special 20 in the key of C and a Lee Oskar in the key of A for Christmas. While the latter is likely to be in my hands in a few days, the Special 20 was given to me as I had hoped for Christmas. Much to my surprise, when I got the box, a big bright sticker indicated the harp was in the key of Db.
While I did my best to mask my initial disappointment at not having it in the key of C to replace my blown Easttop, over the last several days I have learned a thing or two which might help others.
First and foremost is that hitting the bends on my new Special 20 is definitely much easier than on my Easttop 008k, which I previously thought was the greatest thing in the world.
The second thing is that magically the great majority of the songs I have learned to play in the key of C actually don't sound too bad in Db and some seem to sound even better on my new harp.
The whole idea of different keys was at first confusing to me and I thought that if a song was in a particular key that it wouldn't sound right in a different key.
I had lost my blues scale with a hole right in the middle, with no D or Db, and now I have a whole harmonica full of them and am enjoying the heck out of it!!
Is it just dumb luck because Db is only a half tone away from C, making this so, or will this happen across different keys as well?
I'm interested to hear from others regarding playing songs they know in different keys. What is your experience?
Happy holidays to all!