Unlock Magic with Jamming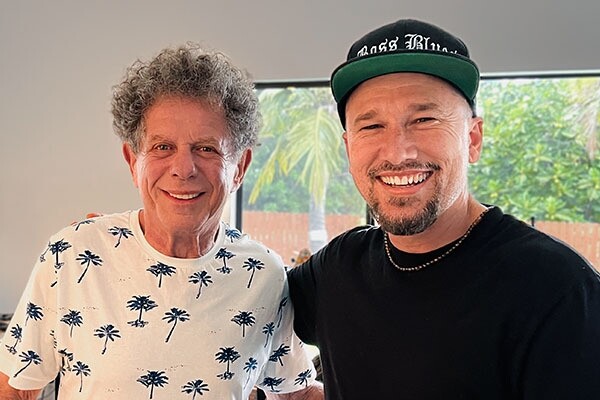 I want to share a magical moment with you…
I have a friend named Brandon who is a brilliant sound engineer.
One of the artists he records and mixes is the great harmonica player, Lee Oskar.
Recently, Brandon invited me and my family and some other mutual friends over to his house for a BBQ.
I arrived at his home on that Sunday afternoon, greeted everyone who was there, and then a few minutes later, I hear Brandon saying, "Luke, I have someone I want you to meet" and look up to see Lee Oskar standing in front of me grinning from ear to ear.

Lee was taking his "first vacation since 1979" and was staying in Brandon's guest house. Brandon thought it would be fun to keep it a secret and surprise me. And it was fun indeed! I was absolutely beside myself!
As you may know, I've been a huge fan of Lee Oskar Harmonicas since I first started playing in the early 90's, and I've been a huge fan of Lee Oskar and his line of harmonicas ever since.
After dinner, Lee looks at me with a sparkle in his eyes and says, "Let's jam!"
I found a dusty ukulele sitting in the corner, managed to tune it up reasonably well, and you can have a glimpse into some of the magic that ensued here in this video.

My wife is leading us in singing Island Style by John Cruz, with our 4-month-old baby girl Naima sitting on her lap, soaking in all the goodness.
I recently wrote about how you can turbo-charge your growth on harmonica by performing in front of people - even a small group of family or friends. A solo performance is great. The only thing that beats a solo performance, is a jam session.
Here in Hawaii there's a phrase kanikapila (pronounced KAH-nee kah-PEE-lah.) It means everybody gets together and plays music. And of the many rich treasures of Hawaiian culture, kanikapila is one that I love most.
I've experienced many enchanted evenings filled with some of the

magic​:sparkles: you may be able to sense in this video.
And it need not be with people as accomplished as Lee Oskar. Making music together changes the atmosphere, and turns an ordinary gathering into an extraordinary gathering.
So next time you plan a get-together with friends, I encourage you to make plans for it to be a kanikapila session. Invite people to bring their instruments. Shakers, tambourines, and hand drums are great ways to get even more people involved. The more the merrier!
Here's a little glimpse from the jam session we had: