Nice


Upgraded my collection to include a LE LF A and E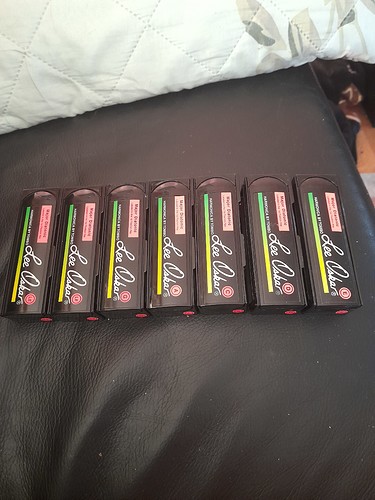 And here with my cat, who didn't necessarily wanted to be in the picture
but she sits wherever she sits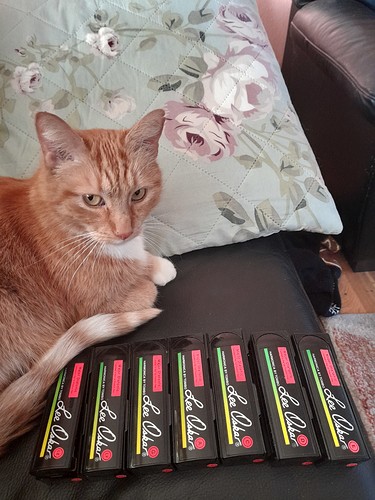 Look at all of those Luck 13's you lucky son of a gun!
Rock on,
Luke
Looks like your cat digs the new harps!

Hi Luke,
I got a C in Richter Tuning, C in Powerdraw, and C in Powerbender to see which one I like. So far not real happy with any of them. They all make a loud hitch pitched sound on the 6 draw bend. The powerdraw and powerbender make the noise on all higher octave draw bends. Any ideas what could be causing that?
Maybe it's technique but I don't have a problem hitting the 6 draw bend on the Special 20.
Cheers,
Kevin
Hi Kevin @kjlarochelle
Is the high-pitched sound a metallic, non-musical one – basically a sort of squealing sound? If so, the problem might be the same as the one I responded to in this post (which you should definitely read). I had this problem in one of my Lucky 13 harps but lucky for me I was able to get rid of it – the squeal, not the harp!

I must admit that I was not very impressed with the overall quality of the sound from any of my Lucky 13 harps … As a result I have switched to buying PowerBender and PowerDraw harps from Seydel. And no, I do not work for them or get any benefits from them for saying this. In fact, I was hoping that the newer Lucky 13 harps might have improved from the old "first edition" models that I purchased some years back.
Regards,
– Slim

Regards,
– Slim
Hi Slim,
To me it sounds like a hitch pitch musical note. It does not happen when I draw hard on it. If I play relaxed and use the same force that I use to successfully get the 6 draw bend on my Special 20 I get the noise.
Is there a way to post a recording?
Thanks,
Kevin
Did you just pivot the reed on the pivot of your Lucky 13 to get it to work? Or did you use another technique?
I've got my first Luck 13 on the way (supposedly.) I ordered it over a month ago. I could only find one place where I could buy one in the key of F.
Does Seydel not make Lucky 13?
Aloha,
Luke
You could post a recording to Soundcloud, and then share the link here.
Hi @Luke
On that harp the problem was that the reed was twisting along its long axis (the reed was aligned properly), so I added a touch of orthodontic wax at the base of the squealing reed, but the amount needed to eliminate the squeal also changed the pitch of the reed so that I also then had to retune it.
Unfortunately they do not. Since you live in the USA your delivery probably takes longer than for mine because I think that mine were in stock somewhere in England. Yours might be coming straight from the Chinese factory used to build the Lucky13 – and that can cause large delays because of customs, politics, pandemics, etc.

Regards,
– Slim

I got mine from Rockin Ron in California.
Yeah Rocking Ron had many keys, but for some reason it was terribly difficult to find an F
Hello, am hoping someone may be able to help me with this. I was gifted a Hohner Alabama and cant find any info on it. I can only find Alabama Blues, but it just says Alabama. Any info would be appreciated.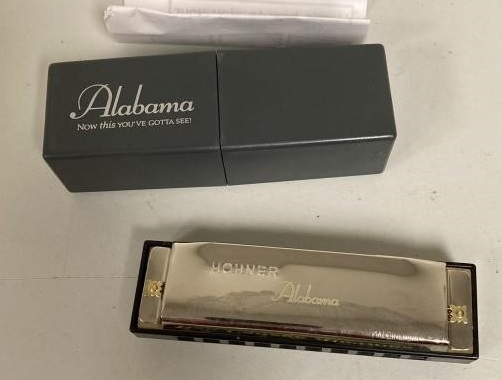 Hallo @Reshoe
Sieht genauso aus wie ein Special-20.
Looks much like a Special 20 – perhaps a limited release?
Good call, @Slim! I was at a loss here. But you may be onto something…
Aloha,
Luke
Welcome to the forum @Reshoe. Sorry I have no idea what that is!
Here's most of the harmonica toys in the 'harp corner' of our rumpus room.
There's a bunch of mics (including 3 bullets and a Shure Commando with CM element - not a bullet), an RP350 effects pedal (with Richard Hunter's harmonica-tailored software), nine amps (two of them 'all tube'), three PA systems with assorted speakers (including Boss KM60 mixer and a couple of 8" quad boxes), about 45 harps (mainly diatonics (Lee Oskar, Hohner, Suzuki, Easttop, Swan) plus chromatics, tremolo, bass and chord), and six harp cases of varying capacities.
I've obviously got GAS (gear acquisition syndrome), but I don't intend to buy any more stuff! Except for the HarpGear HG35 amp I ordered earlier this week (of course)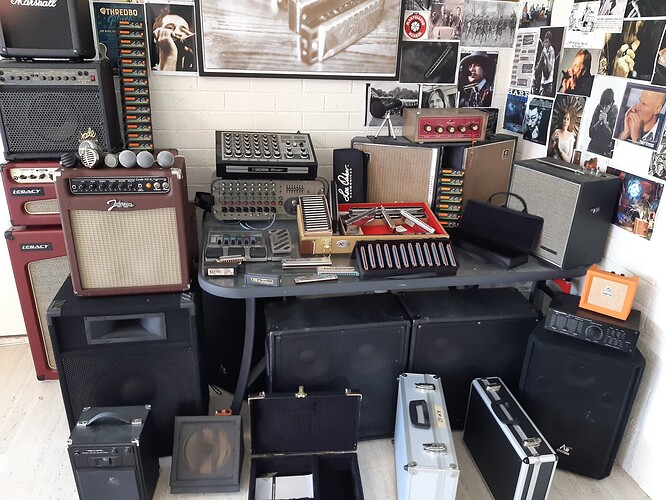 Here is my gear.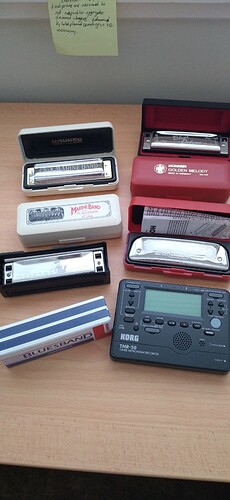 Marine Band in C and D.
Golden Melody in C and A.
Lee Oskar, Bluesband and Fender Blues Deluxe.
Hello @tom2340,
you have some harps that i have too.

Unmistakably, of course, the Hohner Golden Melody. Here I have the C and G, both of which I like to use on soulful songs. And I have the Fender Blues Deluxe set of 7. I like them, despite the lower quality. Only at 2 you "taste" the simple metal. When I get a chance, I'll attach a thin strip of transparent adhesive tape (office) along the edge, which helps. Thanks to the set I got to know the pitch Bb, which I like to use. I would probably never have bought Bb individually. Thank you for your introduction. Greetings from Astrid

I have 18 harps, ranging from a Pocket Pal to 2 Seydels, 2 Lee Oskers, 1 Suzuki Blues Master, 1 Golden Melody, 1 old Echo Harp, 1 Suzuki 21 hole Tremelo, and 7 keys of Special 20s. I showed a sampling my profile picture. No other gear to speak of. (oh, I keep a Bluesband in the car.)