What's the point of a harmonica forum without us showing each other our gear?
I'll start us off…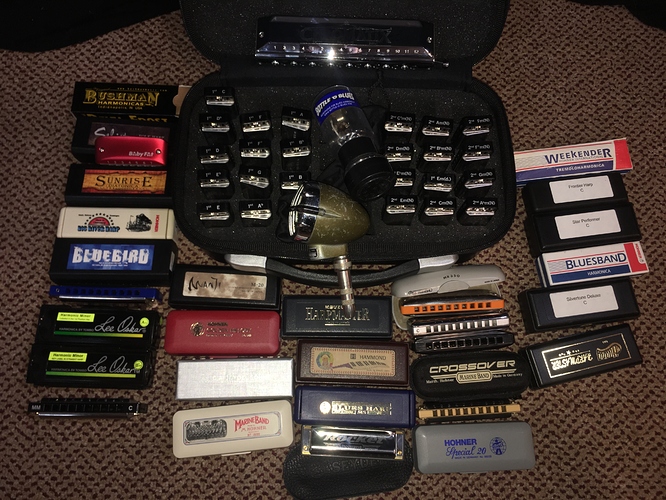 Truths Harps.jpg
Front and center are my go-to axes, my Lee Oskar's in Standard tuning on the left, and Natural Minor tuning on the right, all organized inside of my Seydel Blues Harmonica Case. I also have my Astatic JT-30 mic, with a Japanese vintage crystal element inside that I bought from Dennis Gruenling (badassharmonica.com) and my Bottle 'O Blues, a great, inexpensive low-feedback mic made out of a plastic salt shaker by a fella named Jim McBride (bottleoblues.com) My Suzuki SCX64 chromatic made a rare appearance out of its case for this photo. Here's the story about that: once upon a time, I thought I'd start playing chromatic. But I didn't. The end.
On the left side, I've got a few of my Lee Oskars in Harmonic Minor tuning and Melody Maker tuning, and also over there are some cool off-brand harmonicas, notably some made by a manufacturer called Konsheng. The red one on top of the cases is called the Baby Fat, and it's a pretty awesome little 7-hole harmonica with good projection, a very dark tone, and small footprint! Each key comes in a different color! Below the Bluebird case you can see the blue comb of my Blue Steel harmonica.
In the center below my case are a whole bunch of awesome Hohners, Suzukis, and Seydels.
And on the right of the case are my harps that I can take to the beach.
My amp is elsewhere or I would have included it, a 5 watt Blackheart head and a 4x2" Crate cab.
Oh, and my dog Ozzy wanted me to include him in one of the photos.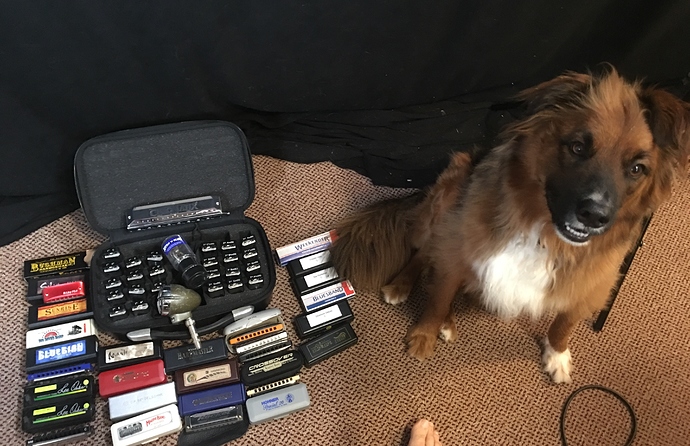 Harps with Ozzy.jpg
That's it for me! Now it's your turn. Show us what you've got. Upload a photo of your favorite harmonica toys, with or without your pet…