When I'm doing tabs it say do a bend (I'm a beginner) and I'm so confused
Hello @Darkminion21,
If you type "bending" in the search box at the top and hit "search," you'll find plenty of answers.
But be patient, learning to bend requires some development on the harp.
Regards Astrid

Also don't forget to search for "harmonica bend" on YouTube where many good videos explain the four types of bends and where they are possible on the diatonic harmonica. But do not expect to master them all as some can be quite difficult – even some professionals do not use all types of bends.
Regards,
– Slim

Bends are what often create the MAGIC which can come out of a diatonic harmonica. It basically allows you to play additional notes "in between" the other "natural" notes on the harmonica.
@Luke has lots of excellent advice here and on Youtube, as do others.
The way I finally figured it out is that it all has to do with airflow. Reduced airflow with steady pressure. As both @AstridHandbikebee63 and @Slim say, it can take a lifetime to master, but it can be learned if you keep at it.
To me the whole trick is to draw as you do on the straw of a very thick milk shake. The thicker the shake, the lower you go, then as it thins out, you come back up to the original natural note.
At least that's how I perceive the process. Mastering it allows us to get those deep bluesy notes the harmonica is so well known for.
Welcome to a fascinating world.
Have fun!
Bends are changes in notes. Think of bends as hidden notes that are accessible by technique. Take the four draw on a C harp you go from a D note to a Db (D Flat) same as on the one hole by using a bend. In the picture below you'll see all the accessible notes available on a harp, by using bends. Bends are just a way of accessing these notes. They can not be accessed by just draw blow on the harp. You have to use a different technique (bending) to get to them.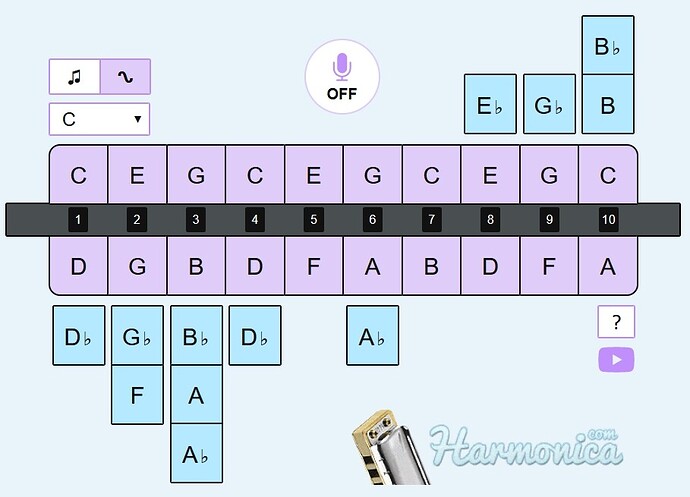 To help you do bends harmonica.com has a tool you can use to practice with.
Bend It Better™ – The Tool That Helps You Bend Harmonica in Tune!
Here is a lesson in bending from John Gindik:
Just for the sake of completeness in this thread I will add the following:
In addition to what is shown in the diagram from @Dai (that shows the most common and easiest bends: "draw" bends on holes 1, 2, 3, 4 & 6; and "blow" bends on holes 8, 9 & 10) there are also the "overdraw" notes for the holes 7 (normal draw = B, overdraw = Db), 9 (normal draw = F, overdraw = Ab), and 10 (normal draw = A, overdraw = Db). The overdraw bends are usually considered the most difficult and almost always require a precision adjustment of the reeds to be able to play them.
The last type of bend is the "overblow" bend on holes 1 (normal blow = C, overblow = Eb), 4 (normal blow = C, overblow = Eb), 5 (normal blow = E, overblow = Gb) & 6 (normal blow = G, overblow = Bb). Of these overblows, the +1o (overblow on hole 1) is usually the most difficult to play, even when the harmonica has had precision adjustments of the reeds.
And again for competeness: despite the connotations of their names, overdraws and overblows do not require any extra "power" in blowing or drawing on the holes. If the technique is correctly applied and the harp's reeds are adjusted properly, all types of bends can be played at normal volume and using normal pressure – in fact, they can even be played quietly when desired/required.

Regards,
– Slim