Thanks for visiting the forum, @Corky_Music, you are the man!!!

Hi Luke.
How easily harp players forget. I just said that it was "You" who is the man!!

Thanks Luke.
Corky
"Individuality > Diversity > Joy"
I'd been looking for an old newsletter I'd written about this video, and finally just found it. Check it out:
They Laughed When I Picked Up the Harmonica — But When I Played!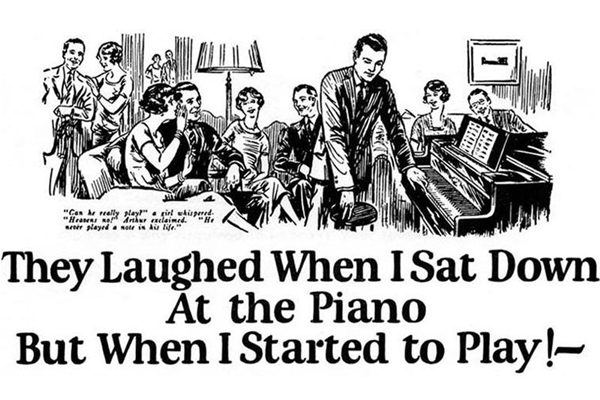 Many of us play for our own pleasure, but also many of us deep down would love to wow other folks with our harmonica skills…
The above ad (from 1926!) got me thinking: what actually makes a head turning, eyeball grabbing performance — with harmonica?
Beyond basic technical chops, there are tons of elements that go into a captivating performance, such as:
→ Varying tempo from slow to fast.
→ Varying dynamics , from quiet as a whisper to loud as a roar.
→ Varying arrangement from dense to sparse, utilizing breakdowns and hits.
→ Varying using space , only playing a few notes, versus playing lots of notes leaving little space.
Chicago harmonica legend Corky Siegel nails all of these elements in this awesome chamber blues video. But he does so much more. He puts on a visual performance too. Visuals matter. Here's a breakdown for you:
The band is fun to look at . String quartet with…tabla? And harmonica? That's different. Corky is wearing a beautiful purple shirt, grey vest, black pants, and black shoes with green souls. He looks appropriate, he looks sharp, and he stands out from the group. He's here to do serious blues business.
Trading between harmonica and violin, the segments get shorter, and eventually they're playing at the same time. This is a common arrangement technique that generates great excitement.
At 3:05 he plays a long high note and raises his arm high in the air to signal a dropout of the harmonica, so the texture goes from dense, to sparse — only harmonica — but the body movement accentuates the moment visually .
The song already starts fast, but at 3:43 it accelerates. Then at 4:00 another harmonica breakdown, this time with Corky jumping to signal when the band should play hits . The tabla player is having so much fun with this, he's grinning ear to ear.
At 4:34 He lets out a "Woo" and falls to his knees, and he finishes the performance on his hands and knees .
I'm not recommending that we all adopt these antics. But when playing live we should think about giving the audience a great experience by how we dress, act, and interact with other musicians.
The showmanship in this video is the kind one develops after having played concerts for almost 5 decades. I wanted to pay homage to Corky Siegel, a master not only of the harmonica , not only of composing & arranging , but of showmanship . Bravo!
That was the end of the the segment in my newsletter. Since that time I've had the honor of "meeting" Corky (through the miracle of modern technology) and I just want to say that you couldn't meet a more humble, authentic, and kind rock star.
YOU are the MAN @Corky_Music!



And if you haven't seen my post about Corky's awesome course on Harmonica expressiveness, check it out here.
Rock on harmonica fam!

Well Mr. Luke,
I may have been humble "before" reading your article. LOL!
Thank you Luke. I could respond with so much humor, but let me say, thank you for the attention and thought you invested in my direction. Pure gratitude!
Here's some inside secrets: The "showmanship" is really almost exclusively just simply throwing myself into the experience. I saw this is what the blues masters were doing, but each in their own unique individualistic way. Very natural and usually not so much staged. Certainly not copying each other directly. My going "down on the knees" - which is not usually spontaneous, but purposeful, is a conscious tribute to the blues masters who put their whole selves into the music - body and soul. And after almost 60 years of going down on my knees each night - or day, it is clear the audience and my band mates love it and in fact it is entirely expected. Not to mention rolling around on the floor. LOL! When I went to India to tour with the exalted classical Indian violin master, Dr. L. Subramaniam, he asked me if I would fall on the floor during my solo. LOL! I'm not kidding. The pointing in the air is spontaneous and mostly unconscious. But it came directly from watching close up, Howlin' Wolf so many many times. (Mick Jagger was not immune from picking up on this). Wolf sat in with Siegel-Schwall, took us on the road in 1966 (Getty Images copyright photo I can use temporarily is below and I can explain it later). I think what we all want to do is just find out what our own unique mental, physical, psychological makeup has to offer and just do it. And we can also throw ourselves "fearlessly" into that. When it comes right down to it, it's all for the fun, the healing, the upliftment. Right? - thank you Luke and Love to you all. - Corky
(From left: Jack Myers, Jim Schwall, me on Wolf's knee, and Russ Chadwick - Jan 1967)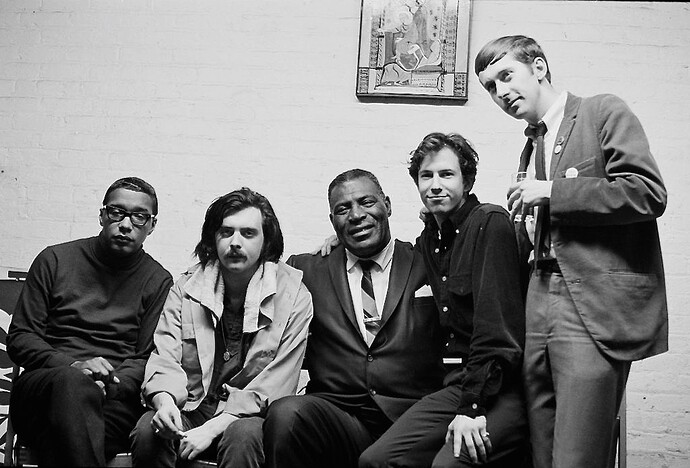 You are seriously cute! I love the clip. I was reminded of Aly Bain. I can't keep still when I hear that kind of music. I think your correct for us learning the harmonica Luke is THE MAN. So good of you to tell him so.
Love your style @corky_music
You give me hope for my overly active hands which seem to take on a life of there own at times, as if possessed by a higher power

Thanks for your advice and experience

To "cute." With ChamberBlues shows we stopped doing "notes" many years ago. Instead our tradition would be to ask; "We're we cute?" The answer was always; "Yes, you were very cute." And then instead of talking about the improvements we can make and bringing all of us down, we'd save those for the next rehearsal. LOL!
And for "Hands." Yes. Do what you do because that's what you do. So as our great philosopher insists; "Just do it." - Nike (not Nietzsche). In other words, it's you. Why be some who isn't you? LOL!
And yes, Luke IS the MAN!
Corky
Corky
Your hand movements while playing are your feelings about the music. Please don't bother with my statement from a few days ago! I'm thinking of Joe Cocker right now, even if he wasn't a harp player.
Maybe I would do the same, but then I would fall out of my

…

Yes, you can laugh about it!