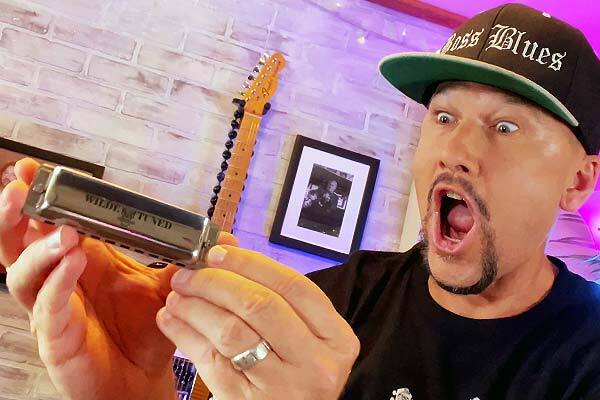 Last June I shared Will Wilde's blazing rendition of the entire Freebird guitar solo on Harmonica. (If you missed it, check it out!)
I was gonna tab out some portions of the solo for you, but then quickly realized:
Free Bird is NOT played on a standard diatonic harmonica.
It's played on a Seydel Wilde Tuned harmonica.
It didn't take long for the lightbulb to go off…

I should check one of those bad boys out!!!
First, I bought an 1847 Classic ( $130 plus shipping .

)
PROS

Beautiful

Responsive

Exceptional tone
CONS

Expensive

Exposed reed plate (tin sandwich design)
After playing the Freebird solo nonstop for an hour , the "tin sandwich" design with exposed reed plate eventually made my lips feel sore

.) So I explored the other option…
Second, I bought the less expensive 1847 Blues Session Steel ( $95 plus shipping. )
PROS

Comfy on the lips

Cheaper (Still ain't cheap though!)
CONS

Dull Tone

Less Responsive
And now to get to the main point…WHAT's the Wilde Tuning like ???
It blew my mind.
So many blues rock guitar riffs are easier to play on this harmonica .
If you are an intermediate or advanced harmonica player, and especially if you play lead guitar too, (and if you can afford it,) this harmonica may be worth checking out.
The kind of FUN that I thought I was gonna have playing the Hohner Pentaharp (but didn't) is exactly the kind of FUN I actually had playing the Wilde Rock tuning.
Here are just a few of the things I love about it:

Holes 1-5 are exactly the same , so all your bluesy stuff still works!

Having -6 equal normal tuning 6 = all kinds of new speed .

Any of your favorite Blues riffs involving -2" -2 3 -3' 4 -4' -4 -5 now can be played up an octave : -6" -6 7 -7' 8 -8' -8 -9"
Here are a couple of cautions:

Those high notes are HIGH! If you're an advanced beginner and you get one of these, I recommend getting a lower key, perhaps the key of A , so that those high notes aren't tooooo high.

This is a 2nd position harmonica (but labeled in 1st position.) You don't want to try and play Neil Young or Bob Dylan on this thing!

If you go to buy one on the Seydel site, make sure the "Tuning" box in the upper right hand corner is selected to "Wilde Rock"

You would need a key of C to play along with Will Wilde's Freebird.
You can check it out in my short review of it here.