I love that one, it's actually very easy to hold. Don't know if it's a dynamic (BD) or crystal (BX).
Thanks, good to know. Will add the Challenger to my 'need' list

Look at all those amps!!!

I'm having serious heart envy right now.

Actually, that is not my whole diatonic collection.
I have Manjis for the minor keys and Sedel Sessions for the flat minor keys.


Hey Mark - Welcome to the forum! Yeah, I'd think the Fender Champion 20 should be a fine amp to get your feet wet playing amplified harp.
Yes it has effects like reverb or echo, and also some other effects like tremolo that could be fun to try experimenting with.
Hope that helps!
Aloha,
Luke
Yo man welcome to the forum! You definitely need to pick up a few more mics!

The new toy has arrived. Is this the perfect mid-size venue harmonica rig? Harpgear HG35 and Bulletini VC mic. This baby is beautiful - and LOUD!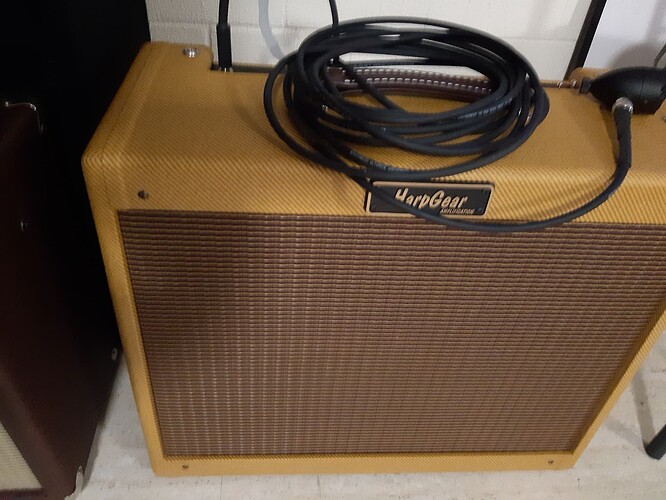 I have been playing harp for over 50 years and have experimented with many configurations, trying many models from different manufacturers.
I now have the best sounding, easiest to play, fun harp.
The only thing I discovered that made a significant improvement in tone, warmth, clarity and fullness, air tightness and most importantly- ease of play was Tom Halchak 's
,Blue Moon Harmonicas, recessed brass combs for $64.95 for my Special 20.
I have been gigging with them for 8 years. I thought there was nothing more to be done.
Recently, I tried powder coated cover plates from Tom for $25.95 a set. The covers make the tone even warmer and fuller. They are smooth on the lips and will not rust. I like the different colors for identifying the right key in dark clubs.
(Tom also has these brass combs and plates for some other harps and manufacturers.)
These are true lifetime instruments!

Blue Moon Harmonicas LLC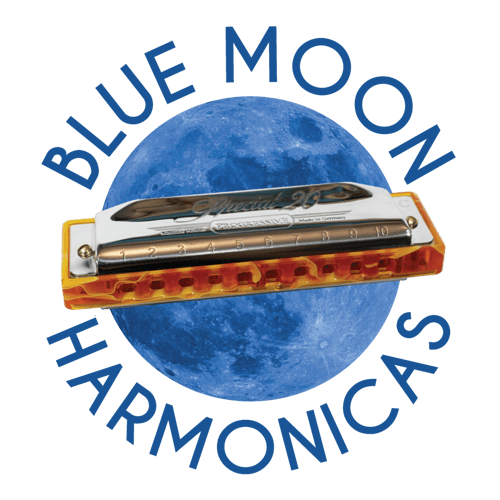 Custom Harmonica Combs, Custom Harmonicas, Pre-War Harmonicas, Vintage Harmonicas, Harmonica Tools, Sonny Terry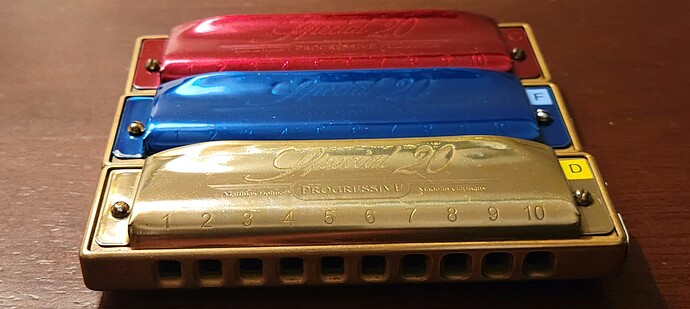 Yep - 35W thru 2 x 10" Weber speakers. And a line out to the PA if that isn't loud enough. But I have trouble imagining where it wouldn't be loud enough!
Yeah, when I play electric guitar live I play through a 1972 Marshall PA Head that's 20 Watts into a 2x12 amp. They always mic it for big shows, but I've never had that amp not put enough volume out for me on stage, even on shows in front of several thousands of people, so I'm with you 35 Watts is PLENTY of power. She's a beaut. My curiosity is piqued. What's the price tag on that girl?
Specs are at http://harpgear.com/ - you'll need to go to the HG35 page. Brian Purdy builds 120V and 240V versions. The 240V is US$1599. And postage was US$400. Lucky I've got an understanding wife!
Other than being one of the few harmonica amp builders that routinely builds for 240V, I picked HarpGear because it has lots of pro, semi-pro and amateur support across the forums. And Brian was an instructor at the Harmonica Jam Workshop I went to in Clarksdale MS back in 2017. My Facebook cover photo is on stage at Ground Zero Blues Club in Clarksdale (Morgan Freeman is co-owner) playing (my 24 bar slot) through a Bulletini into a HarpGear Double Trouble. It's taken five years, but now I've got my own rig to match!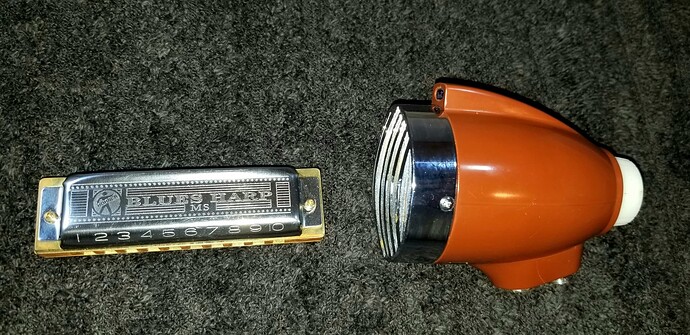 Just got this check it out, vintage Kent microphone with Shure CR element from 1956, to hear it go to YouTube and type in " Kent M-135 Mike."
This is cool, never seen a Kent before.
.
Thanks for the link Luke!
I just bought the Hohner Aero Band Zeppellin harmonica by M. Hohner, ca. 1909 - 1924. Both the cover plates and partial box depict a zeppellin, with central pictures of Hohner and Ferdinand von Zeppellin. Brass cover plates once had a thin plating of silver.