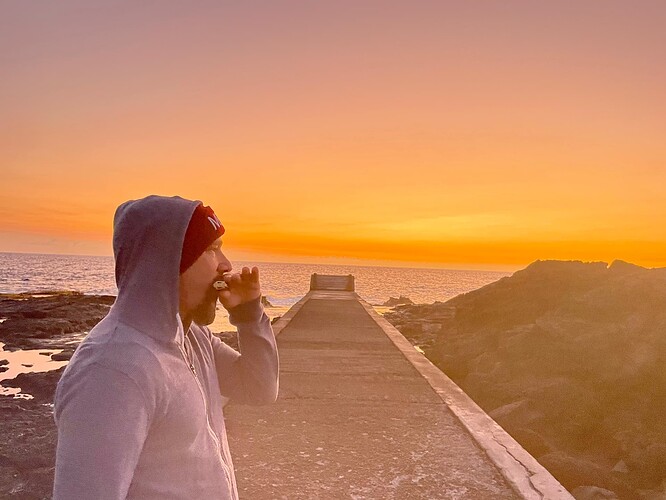 I've had an incredible passion for music ever since I was 2 years old when I heard Hit the Road Jack , by Ray Charles, blasting out of my dad's record player. I still remember watching the record spinning around, feeling total ecstasy, "WOW! This is IT !"

My requests for a drum set were never answered, but finally when I asked for a guitar, my parents sprung for one and I was hooked. I played guitar in many bands in high school, and then my friend taught me to play harmonica, and I got good enough to start playing some gigs.
As high school drew to an end my parents asked, "Where are you gonna go to college?" I thought to myself, " I dunno. Where do you go to become a rock star?"
I discovered that Oberlin College in Ohio would let college students take classes at its conservatory, which was perfect for me since I wasn't good enough to get into the conservatory by audition.
When I got to Oberlin I was no longer the big fish in the small pond, and I felt I had to practice so much to "catch up" to the other guitar players. By the end of the first year I'd developed a severe case of Repetitive Stress Syndrome in my fingers - forcing me to stop playing guitar altogether. I was DEVASTATED

BUT that's when I really started delving deeply into the harmonica. I began trying to copy the blues masters, figuring out how to play things on harmonica that I'd used to play on guitar, learning Irish fiddle tunes, you name it, I was exploring it.
I found, for whatever reason, that I developed a spiritual connection with the harmonica. Maybe it's because it's played with the breath. Or maybe it's cos it saved me from a life devoid of playing music.
I began to notice that when I'd play harmonica the atmosphere felt magical . And when my life hit some hard times, making that magic became even more important to me. Like when I was going through divorce and bankruptcy, I remember pulling the car over and playing into the wee hours of the night.
I'm grateful for how the harmonica has changed my life. I can't imagine life without it. I hope you never have to go through anything that painful in the future. But I hope that you do get touched, like I have, by the magic of the harmonica.